Alice and Lone from
AloDezigns
gave me this award. I am stunned and thrilled to receive it.
Thank you so much ladies!! Please check out their blog!!!
They are amazingly talented ladies!!!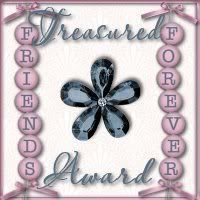 The rules for this award are simple pass this onto 5 Treasured Friends who have not yet received it. I would love to present this award to these treasured blogs:
Bluebirds Blog
SC Designz Scraps and Stuff
Cajun Design Scraps
Candys Treats Scraps
Designs by Helly
Please check out these talented ladies blogs!!!
Big hugs to all
Terry (LadyLynx)