Glam n Glitter Designs is hosting it's first Blog Train.
Departing today from the station you have to see this train.
Not everything is Christmas related. Full size and tagger size
items available. Gorgeous colors. Check it out!!! Click on the
preview below to go to the Station or follow the designer list
below my preview. Slide show of items for offer in this train
is veiwable at the Station.
Here is my part of the train.
Click on the preview to download.
Please remember to leave a thank you.
Your thanks truly are appreciated.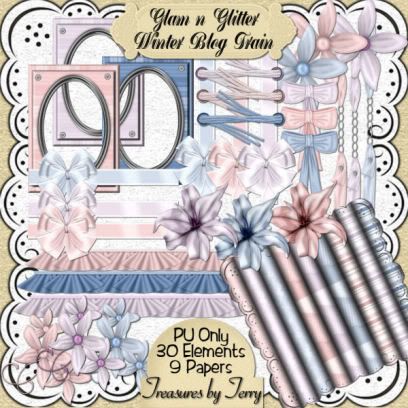 Here is the list of participants in the train. Please check out
these talented Designers:
Lanna Designs:
http://www.scrap-world.blogspot.com/
Crystals Creations:
http://crystalsscrapcreations.blogspot.com/
Digital Delights:
http://www.digital-delights.blogspot.com/
Josy:
http://www.magical-creations.blogspot.com/
Pathy:
http://pathydesign.blogspot.com/
TagginAngelsScraps:
http://taggingangelsnscraps.blogspot.com/
Rachelz Expressionz:
http://rachelsexpressionz.blogspot.com/
Dawn:
http://sugarkissedscraps.blogspot.com/
Cora(Pimpe'd Designz):
http://pimp-your-tags.blogspot.com/
Black Widow:
http://blackwidowcreationz.blogspot.com/
Wacky Winnie:
http://wackywinniedesignz.blogspot.com/
Scrapalicious Scraps:
http://www.scrapoliciousscraps.blogspot.com/
Babycakes Scraps:
http://babycakesscraps.blogspot.com/
Manda:
http://mandazdazzlingdezignz.blogspot.com/
JT's Designs"
http://jtsdesigns.blogspot.com/
BlueBird:
http://bluebird-ddu.blogspot.com/
Treasures By Terry:
http://treasuresbyterry.blogspot.com/
(YOU ARE HERE)
ZaZa/Scraps and Tubes:
http://scrapandtubes.blogspot.com/
Brianna:
http://gothicwitchcreations.blogspot.com/
DeBee DeZigns:
http://debeedezines.blogspot.com/
Whispy's D'zines:
http://whispysdzines.blogspot.com/
Alanes Designs:
http://inspiredtodreamscraps.blogspot.com/