Mary,
Country Bug
, has given me an award!! Thank you so much hun!!!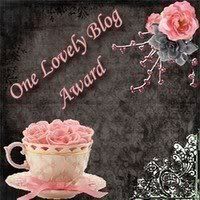 Here are the guidelines for accepting the award:
1. Add the logo to your blog;
2. Link to the person from whom you received this award;
3. Nominate 7 or more blogs;
4. Leave a message on their blog, letting them know they are One Lovely Blog!
I'm giving this award to these lovely blogs:
CajunDesignScrapz
DesignzbyLou
Misfits Scrapz
Miggins Does Scrapsville
Wacky Scraps
Scrappin Leanntastic!
Jelly Bean Lane
Check out all these lovely blogs. You won't be disappointed!!!